For a complete bio including my educational background and approach to massage therapy, simply give me a call or send me an email.
I am a competitive bodybuilder and know the body well. I work on many athletes from NFL players, to weekend runners. I love what I do and take pride in my work.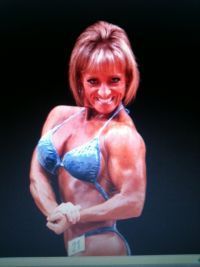 I have been an EMT for 26years in the ER and out in the field. I am also certified in Ashiatsu Oriental Bar therapy. ( Check out deepfeet.com for more information on that.)
I have been a Licensed Massage Therapist in Bentonville Arkansas for 16 years. I Started my own clinic right out of school, A Touch Above Massage Studio. I have earned a wide variety of clients with over 500 in this area and out of state. I love helping people and it shows in my work.
Come see why orthopedic surgeons, neurologists and Physical Therapists refer patients to me. I specialize in issues and finding the cause.
I have expanded my practice and added some exceptional therapists to my team. I'm very selective on who I have chosen. Come see what we can do for you!
If you have any questions please feel free to call me. I look forward to working with you.
A Touch Above Massage Studio
Cindi Hobbs LMT,EMT Lic#4303
479-790-2565
Day,evening and weekend appointments available